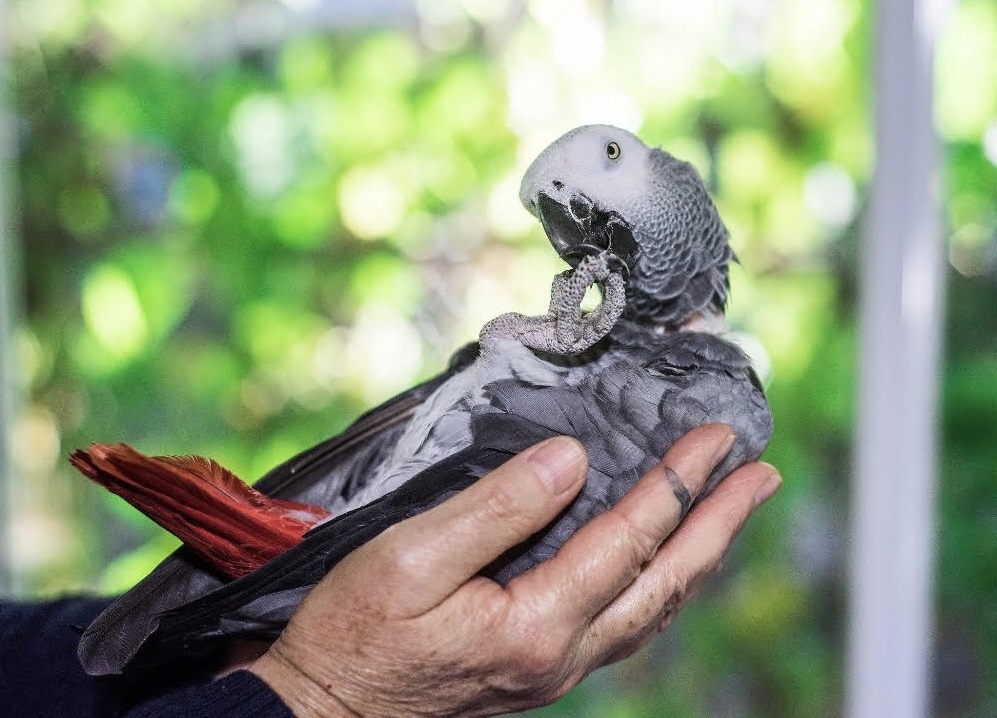 Consuela
To the Friends of the Flock at Uncle Sandy's Macaw Bird Park,
It is with deepest regret that I must inform you of the passing of a 15+ year icon at Uncle Sandy's. Consuela, the one legged Congo African Gray, passed away on April 16th, 2023.
Consuela was held by thousands of people per year at Uncle Sandy's. She had daily interactions with visitors both the young, and young-at-heart, and she brought joy to everyone she met.
Only having one leg, nothing was easy for Consuela. She always had to stand on that single leg. Yet, she thoroughly enjoyed being held on her back, which allowed her to rest her leg while socializing with guests. We took countless trips to retirement homes, assisted living centers, schools, and day care centers over the years. She never once complained, or more importantly, bit anyone during those outings and adventures. She was truly an amazing ambassador for Uncle Sandy's Macaw Bird Park.
Those of you that have a picture of someone holding Consuela, new or old, please feel free to post it to our Facebook page.
She will be, and in fact already is, deeply missed. Yet Consuela can now rest in peace, knowing that her labors of love here at Uncle Sandy's Macaw Bird Park are completed.
To you Consuela, thank you for a job well done!!
With deep love and fond memories,
Reed – Consuela's handler at the park (with a tear in my eye)
& The Staff of Uncle Sandy's Macaw Bird Park