We need your help to preserve the park and keep our feathered friends safe and happy!
Volunteers can work within the park doing various chores. We have lots of chores for every skill level! Familiarize yourself with birds and work on your comfort levels with them. Learn what it takes to care for a bird but before you leave, play with them! Playing is very important because birds require lots of socialization and interaction.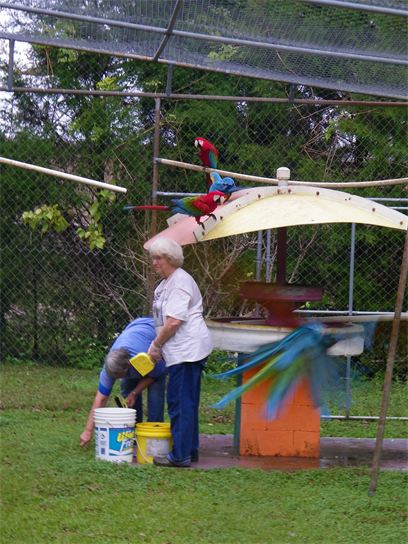 Two volunteers help with the feeding and cleaning.
We appreciate all those who volunteer and simply ask that you help with whatever time or skills you may have.  In addition to feeding and cleaning, there are always other projects to work on!
If you can donate just one hour a day, come once a week or even once a month, it helps us keep the park running. Every little bit counts!
Traditionally, volunteers just come to the park whenever they are available. We ask first-time volunteers to fill out some information and then its off to work! If you know when you can help, you can also sign-up on our calendar in the office. All information is kept confidential.
If you are unable to volunteer but still wish to help, you can donate to the park. Please visit our Donations page for more information.
---
If you would like to volunteer for our park, please stop in during our business hours and let us know!
Note: Be sure to wear old clothes/shoes or attire you don't mind getting dirty!